Club News

June 6th, Euroshow, 2015
Our June 6th, first ever, Morristown European Car Show was a huge success. Thanks to the officers and members of the club for organizing and promoting the show, we had 69 entries representing many makes and models and great attendance. Special thanks to the sponsors and those contributing items for the silent auction. Sponsors for the show included:

Cumberland Glass, Framing by Carol, Bill Parker Carpet Service, Sonny's Auto & Truck Repair, WERK & WMTN Radio Stations, Trade Center/Sonic Emporium, Roger Yount Body Shop, Pizza Cottage, McDonald's Restaurant, K & J Auto Sales, Waste Industrials, and Lowland Credit Union.

As a result of these efforts, we were able to raise over $1,700 for the Daily Bread.

Pics of the show can be viewed HERE.


March 5, 2015 Meeting
Due to snow and icing of roads,, minutes of the March meeting are not availible as just a handful of people were able to attend.
February 5, 2015 Meeting
Meeting was held February 5, 2015 at the Stagebrush Steakhouse Restaurant. Those present –
· Jim Steppe
· Ed & Jolean Ballard
· Al & Liz Bauerle
· George & Teresa Greene
· Spencer Hogan
· Paul & Kathryn Ireson
· Chuck Gaines
· Ben Bailey
· Juan Dominguez
· Bob & Chris Frazer
· Mike & Joyce Thomas
· Jim Watson

Treasure Report - $795.29 club account and $89.00 flower fund
Old Business –
· Drive Committee met at Cracker Barrel and came up with drives and new activities for the club. See the attached Drive Schedule. Any questions let Ed and Jolean Ballard, Jim Steppe, Spencer Hogan, or Jim Watson know.
· The "Morristown's First Ever European Car Show" is now being planned and work is underway to make it happen. The Car show flyer and registration is attached for your review and to be able to register your car. See the flyer for all the information. Let the Drive Committee know if you have any questions.
· The April Fools Bash flyer is attached. Please RSVP to TY, see flyer. We need to talk about who is going and where to meet. See flyer for details.
· The Springtime in the Smokies British and European Car show information is also attached.
New Business –
· Update on Car Show – Also club members need to check with Jim Steppe to see what they can do to help.
· March 21 – Saturday's Tech Session – Details/Jim Steppe
· March 28 – April Fool's Bash – Details
· Need to update email list with new members
NEXT CLUB MEETING –
· THURSDAY, MARCH 5th - STAGEBRUSH STEAKHOUSE RESTAURANT
· MEET/GREET – 6:45 OR SO
· EAT/TALK – 7:00 OR SO
· MEETING – 8:00 OR SO

IF THE WEATHER IS NOT NICE AND THE ROADS ARE SLICK – I WILL SEND OUT AN EMAIL IN THE MORNING TO CANCEL THE MEETING FOR THIS WEEK AND WE WILL HAVE TO MORE IT TO A MORE DESIREABLE DAY. STAY TUNE AND SEE WHAT HAPPENS……………………………….COME ON SPRINGJ
Any questions or comments, let me know.

Thank
Jim Watson
East Tennessee MG Driver's Club Secretary
865-599-4305
spridget@charter.net
A quick note and some pics regarding the club charity contributions;
"Here we are with Hobe Williams (Daily Bread ) and Liz Justiss (M.A.T.S) They were very appreciative and you would have thought we had just given them a thousand dollars."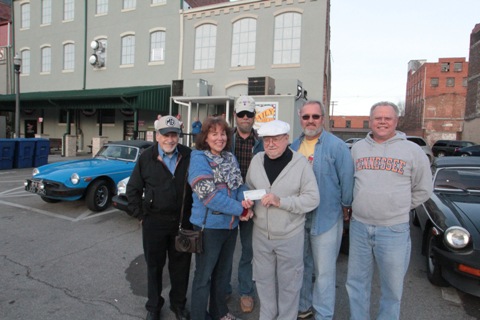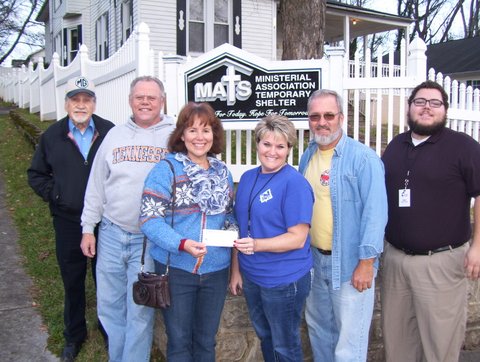 Fools Bash 2013
ETMGDC co-hosted the Eighth Annual British Car Fools Bash in Maryville, TN this year. Club members attended the event, joined by British Car enthusiasts from around the area to kick off the new driving season. More here!
Hot Springs Drive 2012
Members of the ETMGDC and friends enjoyed a picnic and drive to Hot Springs, NC. More info here
MG 2012 Dillard Georgia
Several members of ETMGDC attended MGB 2012 in Dillard, Ga. See more here
April Fools Bash 2012
VIR, Heacock Golden Cup Historic Race November 4th, 5th, and 6th
Members of ETMGDC attended race. More on Past Events page
ABCS Fall Color Drive October 22nd, 2011
Members of ETMGDC enjoyed drive held by the Appalachian British Car Society. Pics and details on ........Past Events page!
Paint Creek Drive October 1st, 2011
Annual drive and picnic at Paint Creek. For more details see the Past Events page.

Morristown Cruise-In August 26th, 2011
Pictures, see Past Events Page

Celtic Festival, Big Stone Gap August 20, 2011
For Pictures, see Past Events page
2011 Annual Club Picnic at Hot Springs July 16, 2011
Our annual Hot Springs drive and picnic was attended by several members. For more details, see the Past Events page.

24th annual 'Springtime in the Smokies May 13th, 2011
Several of our members attented and this enjoyable event. For more info on this event, please see the Past Events page.
Club Drive and Picnic on September 18, 2010
Mark and Karyn Bourne led us on a drive to a delightful picnic spot deep in the Cherokee National Forest. To view pictures and read about it, go to the Past Events page.
Annual Club Picnic at Hot Springs, July 10, 2010
Chuck & JoAnn Hamilton again led us on our annual drive to picnic at Hot Springs, NC. Read more and see pictures on the Past Events page.
Jim Neidert
Our members are greatly saddened by the untimely death of Jim Neidert who was killed in a tragic accident with his lawn tractor on November 19. Jim and his wife Susanne have been such good and loyal members, and Jim will be missed by all of us.
Drive to Clinch Mountain Winery April 18, 2009
Eleven cars from two clubs participated in this drive in perfect top-down convertible weather. View pictures and read about it on the Past Events page.
April British Car Fools Bash April 4, 2009
British car enthusiasts from seven clubs came together in this year's annual multi-club event on a gorgeous day at the top of Panther Creek State Park. View pictures and read about it on the Past Events page.
Ann Kern
Members of both East Tennessee MG Drivers Club and Appalachian British Car Society were saddened by the death of a member and dear friend, Ann Kern, wife of Paul Kern, president of the Appalachian British Car Society. A memorial service was held for her on Saturday, January 10, 2009 at St Paul's Episcopal Church in Kingsport, Tennessee, and friends were received at the Kern home afterwards. Paul requested that club members drive their British cars to the memorial service, and at least fifteen of them were gathered in the parking area that was reserved for them at the church.
Mark Whitt
It is with great sadness that we remember the passing of our first President and Co-Founder of ETMGDC, Mark Whitt, who died May 6, 2007. He was survived by his wife Sandy, son Travis, and his parents Walter and Jo Ann Whitt. Mark was greatly talented as a British car mechanic and restorer. He was a great asset to our club as leader, adviser, and friend. He is sorely missed.